In reality, the student to faculty ratio is not an indication of an average class size. It especially may not give a sense of the size of popular introductory courses. Think physics 101, math 101, psychology 101 courses, where the class size could sometimes be over 200 students at some colleges. And yet the student to faculty ratio can be a helpful metric when comparing colleges with the same "group".
Let us look at the student to faculty ratio for some of the most popular colleges. There is quite a spread in the reported student to faculty ratio, isn't there?
Name of College
IEPDS Student to Faculty Ratio
Undergraduate Population
Full Time Instructional Faculty
Part Time Instructional Faculty
Princeton University
5:1
5,400
924
188
Rice University
6:1
3,893
371
180
Williams College
6:1
2,150
299
74
Duke University
7:1
6,609
3,731
197
Pomona College
7:1
1,563
217
45
Vanderbilt University
8:1
6,871
1,226
220
Washington University in St Louis
8:1
7,555
1,583
569
Emory University
9:1
6,861
2,237
535
University of Southern California
9:1
18,794
2,369
1,408
Stanford University
10:1
7,034
3,296
488
Willamete University
10:1
1,997
217
85
U of Michigan Ann Arbor
12:1
28,983
6,344
1,524
Gonzaga University
12:1
5,183
443
344
Marquette University
14:1
8,238
648
510
University of Virginia
15:1
16,331
2,217
140
University of Oregon
17:1
20,049
1,140
373
University of California Berkeley
18:1
29,310
1,646
848
University of Texas- Austin
18:1
40,168
2,748
323
Georgia Institute of Technology
20:1
15,489
841
140
Arizona State University-Tempe
23:1
42,477
1,941
139
Table 1: Student to Faculty Ratios at select 4-year public and private colleges in the US. Analysis of IPEDS data by O's List.
Definition
To understand the student to faculty ratio, let's begin with the definition of the student to faculty ratio (yep…there is a formula!)

Full time/Part time students are full time/part time enrolled undergraduate and graduate students. Colleges have a fair bit of leeway in who they consider full time and part faculty and the numbers may be slightly different as reported on the Common Data Set and IPEDS (part of Ed.gov). For a deeper dive, read this paper by IPEDS.
When is it Misleading
Often students and parents can get confused that the student to faculty ratio somehow correlates to the class size. When the ratio is reported as 20:1, you may feel that the class comprises of 20 students. As can be seen from the definition of the student to faculty ratio, that may not be the case as graduate students and faculty who teach both undergraduate and graduate courses are included in determining the student to faculty ratio. Thus it is not a ratio exclusive to undergraduate students. There are many graduate classes where there are only 10 students in a class. Contrast that to an undergraduate class with over 100 students in the class!
Here are a few examples of colleges making a very clear distinction between the class size and student to faculty ratio.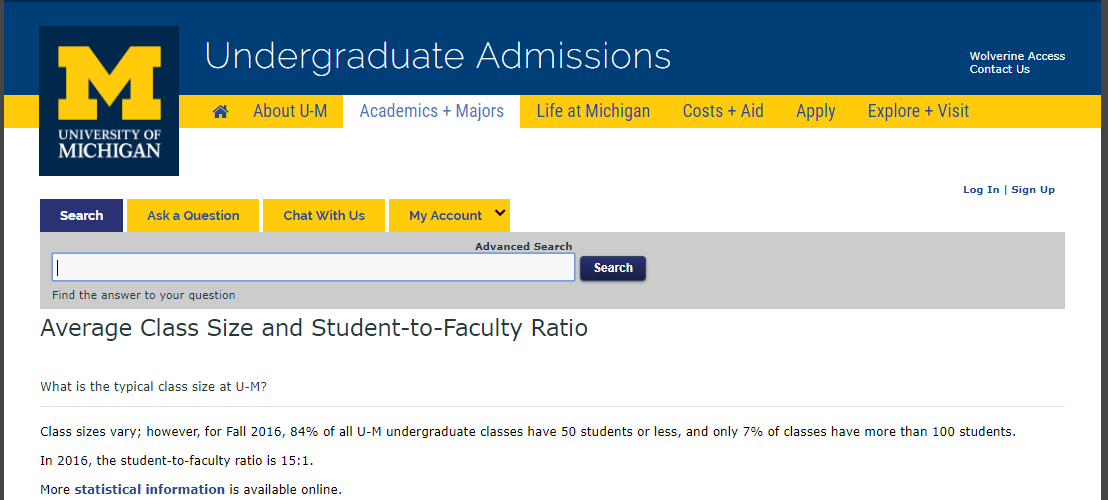 It is possible that a freshman may end up in a class with 40, 50 or even 100 students in the first year. It usually gets better from there on as the students start to take classes in their intended field of study and the freshman 101 courses are done.
When is it Helpful
The student to faculty ratio is helpful when it is used to compare colleges in the same peer group. The private and public colleges have different average student to faculty ratio. Even within each peer group, there are distinctions. E.g. the Ivies have a lower average student to faculty which is not totally unexpected.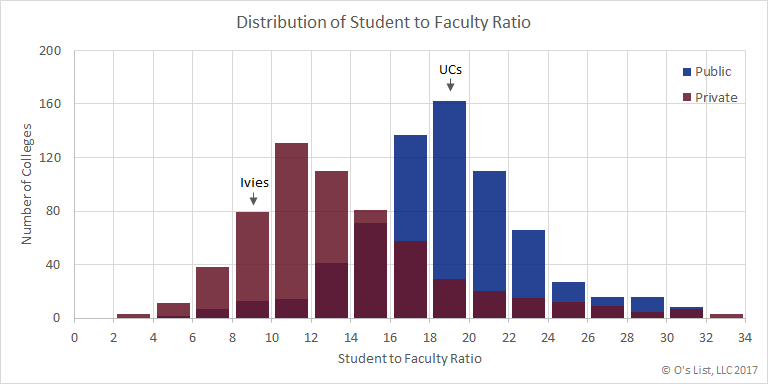 The student to faculty ratio is not a standalone metric. While many factors contribute to it, the student to faculty ratio is determined by size of the graduate students and undergraduate students, whether all the faculty teach undergraduate classes, the ratio of full time to part time faculty, the cost of college and to some extent the academic profile and philosophy of the college.
However, it can be a powerful number to help spot any outliers to the general trend. Its not that colleges with higher than average student to faculty ratio are poor options … it is just a flag to look deeper and understand and correlate to other factors.
In conclusion, while it is tempting to think of the student to faculty ratio to be representative of the average number of students in a class taught by a faculty member, please do not assume that to be the case in all majors, all classes at any college.