Let us take a look at the 15 year trend in the number of graduates, which is a reasonably good proxy for the popularity of the major.

Social sciences and history are the most popular majors among the Liberal Arts, and held quite steady till 2012, when the first sign of a dip shows up. At its peak in 2010-11, there were over 175,000 graduates in social sciences and history, but the number had fallen by to around 165,000 by 2015-16. Similarly, the number of graduates in education had remained steadily between 100,000 and 110,000 annually from the 1990s, until 2012. The most recent number is around 85,000 graduates. A similar dip in education graduates was observed in the 1980s, as compared to the 1970s, but the number recovered in the 1990s. It remains to be seen if number of graduates in education will start to recover. In contrast to these very popular majors, math and the physical sciences have held very steady since the 1970s at 15,000-20,000 graduates in math and statistics and 20,000-24,000 graduates in physical sciences.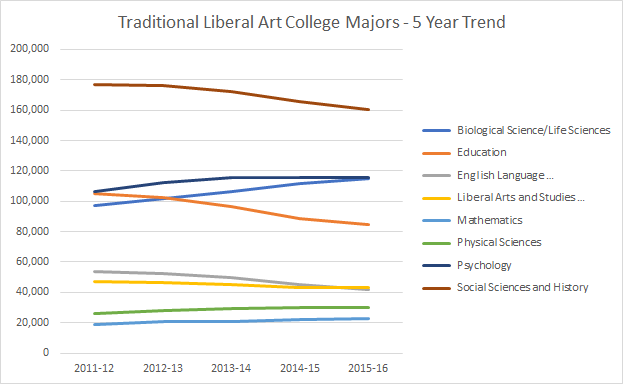 2012 seems to be an interesting point for many of the majors and their numbers of graduates. A simple look at a 5 year trend yields very little information till you take a look at their normalized 5 year trend.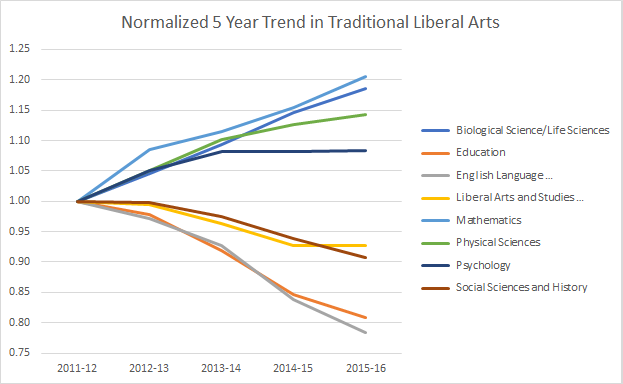 Starting in 2011-12, there has been a steady decrease in the number of graduates for these majors:
Social Sciences and History
Education Related Majors
Liberal Arts and Sciences and Humanities
English Language and Literature
Because the number of graduates in these majors is so large, it is easy to lose sight of the decreasing trend. A similar trend was reported by the American Academy of Arts and Sciences. It remains to be seen if this trend in declining interest in sociology, history, language, literature and education will reverse itself or will continue to accelerate.
In contrast, the science-oriented Liberal Arts majors have risen in popularity:
Math and Statistics
Physical Sciences
Biological Sciences
Psychology
There is a much larger spread in the graduation numbers for the math/science majors as compared to the social science and humanities majors. Biological sciences and psychology are far more popular than math and physical sciences. There are over 100,000 students graduating in biology and psychology, whereas only 15,000-20,000 students graduate in math/statistics/physical sciences. This increase in science and math/statistics majors could be possibly propelled by the recent interest in data science, AI, machine learning.
While it is tempting to lump the science oriented liberal arts majors into the same category as engineering and technology, there is a difference between science and technology majors. Nonetheless, it is telling that there is an increased interest in science oriented liberal arts majors. This begs the question: What are the job prospects of humanities and science oriented liberal arts majors? In the next part of this post, we'll take a look at the most popular jobs associated with these liberals arts majors.