To implement this agreement, UC President Ms. Janet Napolitano divided the increase into the following steps: 5,000 in Fall 2016, 2,500 in Fall 2017 and 2,500 in fall 2018. Note this increase is across the whole University of California system.
While this year they maybe on track to enroll 2500 more California students, the actual number of admissions offered to California students has dropped from last year. Last year (in 2016), they had offered admission to 71,178 students. This year for fall 2017, they have offered admission to 69,972 students. That is a decrease of 1,206 student admission offers!
The chart above shows the year upon year admit offers made to California residents across the different campuses. 2015-2016 refers to the increase/decrease in admission offers between Fall 2015 and Fall 2016. 2016-2017 refers to the increase/decrease in admission offers between Fall 2016 and Fall 2017.
All campuses with the exception of Merced shows a decrease in number of admission offers to California students. Berkeley, Davis and Irvine offered admission to almost as many California students as they did last year. The marked decrease in admission offers is noticeable at the Los Angeles, Santa Cruz, Riverside and Santa Barbara campuses. That is quite disappointing for many students, isn't it?
Lest these charts feel alarming, let's take a look at the raw numbers … the number of admission offers across the campuses.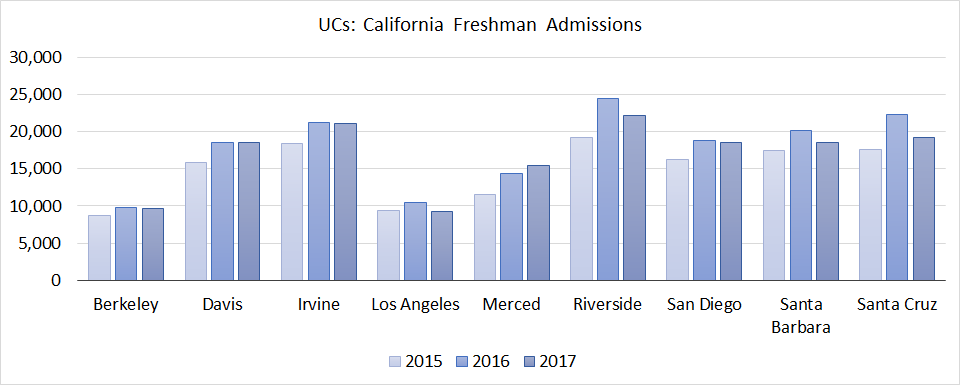 UCs are still admitting a lot of students. The number of California students is at a near all time high. Its just that many more students are applying to UCs. The current cohort of students are in the bubble years for students — many more students are graduating high school than ever before historically. This is straining the education system, as is reflected in students with excellent academic credentials not getting offers of admission in their chosen fields.
This has been a refrain that we have heard in many high school campuses and is reflected in many news reports.
A final note: The data above includes waitlist numbers as well. We'll get a better picture once the semester begins and the actual enrollment numbers come through.