O's Guide to College and Money
Financial fit — how much you will pay for college and how you will pay it — is a source of worry for many families. We are here to help you figure it out. Just follow these simple steps!
Read this guide!
Learn what is considered income and assets on the aid forms before filing.
Estimate Net Price: how much college will cost you. Use our search for Net Price Calculators from different Colleges.
Search for colleges that offer Merit Aid. Look at our Merit Aid maps.
Cost of Attendance
Cost of attendance or COA is the sticker price. This is generally what you will see when you visit the admissions and financial aid webpages of a college. It includes tuition, fees, and room and board costs. Some colleges may also add transportation, personal costs, books and supplies, and other costs to their COA. Not everyone pays the sticker price. All students pay the net price, which could be less than or equal to COA.
Net Price

See what your net price would be for different colleges.
Financial Aid
Financial aid is made up of grants, scholarships/merit aid, and should not include any student loans. The reason is a student loan needs to be paid back, so it is not be held on the same footing as grants and scholarships, which do not need to paid back. The grants can be any combination of federal, state, and institutional aid. Scholarships in this case (at least while estimating your net price) would be a scholarship from the college.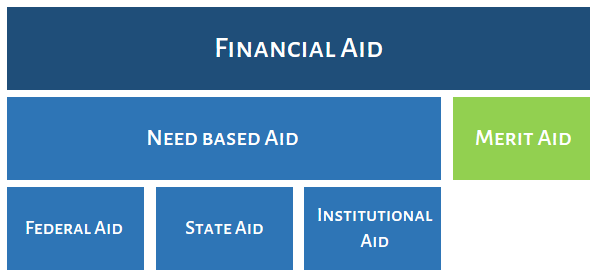 Need Based Aid
Colleges offer need based aid to students only if they have determined that the student has a financial "need". The determination of need considers many factors and is calculated by a federal and/or institutional formula for need. However, the three biggest factors common in the federal and institutional determination of "need" are family income, family assets, and family profile. Family in this case would be the parents and the student. Some institutional formulae may also ask for the value of sibling assets (e.g the value of a sibling's 529 plans).
Types of Need Based Financial Aid
The colleges can offer a combination of the following:
Federal Aid
State Aid
Institutional Aid
How to file for Financial Aid?
Most students file the FAFSA (Free Application for Federal Student Aid) and the CSS Profile for application for financial aid. Some universities have their institutional financial aid form instead of the CSS Profile (e.g. Princeton).
Who uses the FAFSA and CSS Profile and Why?
Most public universities and many private colleges use the FAFSA for determination of need based federal, state and institutional aid. Many private colleges use the CSS Profile in addition to the FAFSA. In such cases, the FAFSA is used for determining the federal and state aid and the CSS Profile/Own Financial Aid Form is used for determining the institutional aid.
How is financial need determined?
The FAFSA uses the federal formula to determine financial need. The CSS Profile uses institution specified formula to look deeper into the financial picture of the family. This allows the colleges that use the CSS Profile to have their own metrics for determining the financial need for its institutional aid. Each college can determine to what extent they will use the additional responses in determination of the financial need.
How does the CSS Profile differ from the FAFSA?
As the CSS Profile uses institutional specified factors, usually there are additional questions about a family's finances. The questions can be about the value of the primary house, mortgage paid, home equity on the primary home, family and business/farm debt etc to further understand the financial picture. The major differences the FAFSA and CSS Profile/Own Financial Aid Form are the primary home equity (which some colleges can use towards the calculation of financial need) and debt. The primary home equity is NOT considered in the federal need formula.
Federal Aid

Grants do not be need to be repaid except under certain conditions for FSEOG grants. Federal Student Loans need to be repaid.
Grants
Pell Grants: Pell grants are the most well known of all the Federal grants. The maximum awarded amount of Pell grant for 2017-18 is $5,920. The amount of Pell grant that is awarded is determined by the student's calculated financial need. Read more about Pell grants (US Dept. of Education.)
FSEOG Grants: FSEOG (Federal Supplemental Education Opportunity Grant) can only be administered by the financial aid office of the participating colleges/universities. Not every college/university participates in this program. The amount of grant is between $100-$4000 and is determined by the calculated financial need, time of application, amount of funds available and any other aid received by the student. Read more about FSEOG (US Dept. of Education).
TEACH Grants: TEACH or Teacher Education Assistance for College and Higher Education grants of upto $4000 are available to students who are looking to complete the coursework required for a career in teaching. The teaching position needs to be in a high need field in a low income area.There are many requirements for the TEACH grants. Read more about TEACH grants (US Dept. of Education).
Service Grants: There are special conditions for getting the Iraq and Afghanistan Service grants. Read more about the Service grants (US Dept. of Education).
Federal Student Loans
Direct Subsidized Loans: Direct Subsidized loans are offered to students with demonstrated (calculated) financial need. The college/university determines the amount of unsubsidized loan available to a student. The student does not pay interest on the loan while in college and for 6 months after leaving college (grace period) and during any period of deferment. There is an annual limit and a maximum aggregate loan limit. The amount that can be borrowed depends on whether the student is in first or subsequent years in college.
Direct Unsubsidized Loans: Any student can borrow the Direct Subsidized Loan. The amount that the student can borrow depends on the cost of attendance and any other financial aid offered to the student. The interest starts accruing immediately. The interest keeps accruing during the grace period and any forbearance or deferment periods. There is an annual limit and a maximum aggregate loan limit.
Read more about Direct Loans (US Dept. of Education).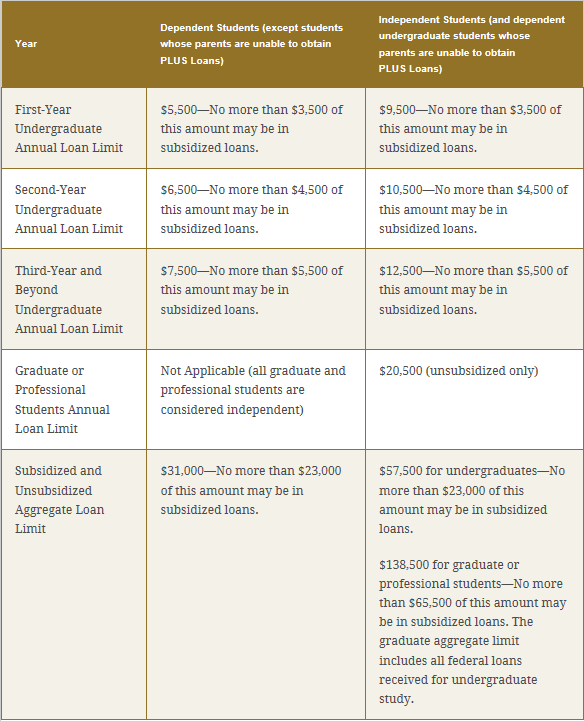 There are steps that need to be taken before applying for the federal student loans. Please read the info about rates and fees, loan fees and the process of receiving the loan.
Federal Perkins Loan: The Perkins loan is only offered to students with exceptional financial need by colleges/universities who participate in the Perkins program. Not all colleges/universities participate in this program. Read more about the Perkins program.
Work Study Program: The Work Study program is based on a student's financial need by colleges/universities that participate in this program. The funds are awarded based on a first come first serve basis. Contact the college/university's financial aid center to see if they participate in the federal work study program. Read more about the Work Study Program.
State Aid
All states have some form of aid for college students. Usually the state based aid is reserved for resident students attending in state universities and is also usually need based. Get more information from NASFAA's (National Association of Student Financial Aid Administrators) page. On NASFAA's site, click on your state and a new window will show you all the info about your state's financial aid and its eligibility requirements.
Since O's List is based on California, we'll make it a tad easier for California folks. California offers Cal Grant A, B and C . There are GPA requirements in addition to financial need, income vs number of family members requirements associated with the eligibility criteria. Read more about applying for Cal Grants from the California Student Aid Commission.
California also offers families with incomes and assets upto $156,000 the Middle Class Scholarship to attend University of California and California State University campuses. Read more about it.
Institutional Aid
Check the financial aid page of the college/university. Usually institutional aid can be one or some combination of need based, non need based and merit aid. You can access the financial aid page from O's List itself. Click on a college in your list and we have the links for financial aid, admissions, merit aid etc.
An estimate of the institutional aid can be gained from the Net Price Calculator(NPC) of the college. It is very important to run the NPC to get not only an estimate of institutional aid but also other aid such as federal and state aid as well as student loans that may be offered as a part of the aid package by that college.
You can access the NPC link through O's List ( we have the link to the NPC of each college from the college info page) or you can also access the NPC after going the college's financial aid pages.
Merit Aid
Merit Aid is offered by the college/university and is usually awarded on the basis of the student's academic and non-academic accomplishments.
Public Colleges
Many Public Universities offer merit aid. Some are generous and some not so generous. Many colleges have also specified GPA and SAT/ACT test score ranges and other requirements for their merit aid consideration. The requirements can vary between resident and non resident students. See our map of public colleges which offer merit aid.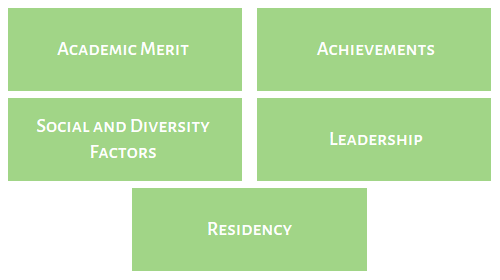 Private Colleges
Many Private Universities offer merit aid in addition to need based aid. See our map of about a hundred Private Universities which frequently appear on college lists built by our users and offer merit aid.
Some of the most selective colleges do not offer any merit aid. See our map of such colleges and their financial aid policies.

Financial Aid Forms
Free Application for Federal Student Aid (FAFSA)
CSS / Financial Aid PROFILE
DoL Scholarship Finder