Santa Clara University is also the oldest institution of higher learning in California and the Western United States, founded in 1851. Today, SCU draws a diverse class of students from all over the country, with a strong representation from the West Coast states of California, Oregon and Washington. The university is well known for its School of Law and their commitment to social justice programs and social campaigns on and off campus. This dedication to social contribution is emphasized in the first sentence in the SCU mission statement: "We are committed to leaving the world a better place."
SCU is also well known for its business school. This can also be seen at the undergraduate level, where finance and economics are popular majors. Political science, psychology and speech communication are other highly sought after majors at SCU as can be seen in the chart of graduated majors (below). SCU also has a reasonably strong number of engineering graduates.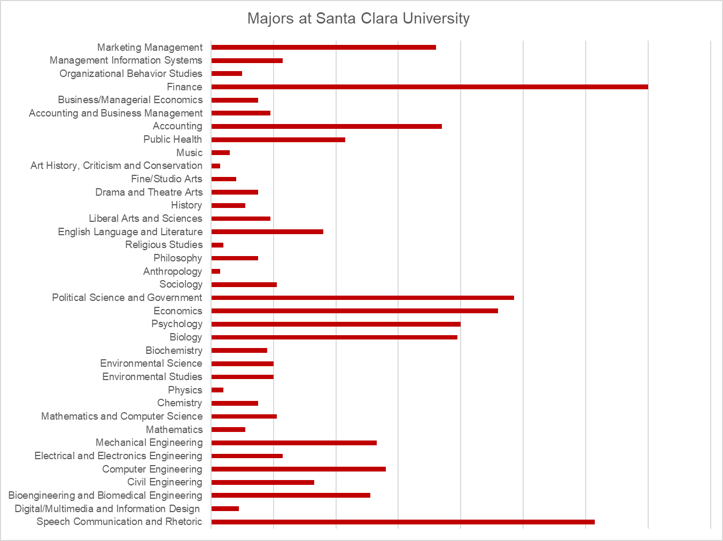 While most students are interested in SCU for their business and social justice majors, many students are attracted to SCU due to its campus and their philosophy. To get a better sense of the salient points of SCU, we spoke with Vivian, a junior at SCU who is majoring in Spanish and Studio Art, about her experience at SCU. Spanish and Art are among the smallest departments at SCU!
Why did you choose SCU?
I have always preferred small colleges over large colleges. In addition, I wanted to stay local, so SCU was one of the most ideal schools for me.
What is your major?
I am a double major in Spanish and Studio Art.
What do you like best about SCU?
One thing that makes SCU stand out from other schools is the faculty-student relationship. Because of the small class size, our professors are always able to provide individual support for the students. I have taken classes where the professor has assigned office hours for each student to go over our essays and offer feedback. The small classes foster an environment for meaningful and long-lasting faculty-student relationship that goes beyond the classroom. Over the past three years, I have reached out to my professors several times and received valuable career advice and job opportunities. Some of my friends have worked for their professors on specific projects and research over Summer break.
Did you write about your choice of major while applying?
Yes, I applied as a Spanish major.
What do/did you feel after 1 semester there (the student body, the activities, thoughts about the future and the things that you really like about SCU)?
Most SCU students would agree that the first quarter was the most challenging because we were still adapting to the new learning environment. Since our school is on the quarter system, we only have ten weeks to learn the materials, which means that sometimes the workload can get a little overwhelming. Nonetheless, I have learned to manage my time effectively so that I can balance academics and social life. As a freshman, I also took some classes with mostly upperclassmen. It felt slightly intimidating at first, but the academic environment at SCU is always very welcoming.
What do you think about the core classes?
I personally enjoy taking the core classes because they allow me to explore different subject areas and find connections among courses in the core and my major. Some of my favorite core classes that I have taken so far are Ethics in the Digital Age, Literacy and Social Justice, and Art History.
Tell us a bit about the class size for the freshman classes.
On average, freshman classes that I took had around 20-25 students.
Tell us a bit about the extracurriculars, clubs, activities that you participate in at SCU.
During my sophomore year at SCU, I worked as a program coordinator for a social justice program on campus. I was in charge of recruiting volunteers for my program to offer free tutoring to the SCU on-campus workers (custodians and cafeteria workers). As a part of a larger organization, I also collaborated with my colleagues to plan social justice-related events on campus such as Immigration Week and Issue-based discussions among others.
Tell us a bit about student-faculty interaction, support at the college.
As I mentioned before, the student-faculty interaction is one of the aspects that makes SCU unique. In addition to the support from my professors, I have also received valuable advice from my major advisors as well.
What about Summer plans: You, other students. Internships, summer work, travel, etc. Do they help you find the summer internships?
A lot of the SCU students that I know have summer jobs and internships. Many students also take advantage of the summer immersion and fellowship programs abroad. We have a career center on campus that helps students to write their resume, find jobs, prepare for career fairs and etc. The career center also hosts student workshops such as networking sessions and peer advising.
What advice would you give to applicants?
I think taking college tours and attending preview days were key parts of deciding which college is the best fit. After all, college websites and brochures can only offer a limited amount of information. A visit can allow the prospective students to talk to the current students and faculty and get a firsthand view of a college.
Tell us a bit more about your Spanish and Studio Art majors.
As a Spanish major, I have been taking Spanish classes since my first quarter at SCU. Since I passed the AP Spanish exam in high school, I was able to enroll in upper-division classes as a first-year. For students who have not taken an AP language class, they have the option to take a placement exam at SCU the spring or summer prior to their freshman year to determine which level language course is most appropriate for them.
At SCU, the Spanish program offers courses in language, culture, literature, as well as professional development courses such as Spanish Translation. A lot of Spanish majors, including me, would choose to study abroad in a Spanish-speaking country during our Junior year. Many of us also study Spanish in combination with other specialized fields such as international studies, pre-law, business, pre-medicine, and etc.
The studio art majors at SCU move from foundational classes in basic 2D/3D and digital art to specialized upper-division courses. Additionally, we have to take at least three art history courses and senior capstone courses (a class where most SCU students write their senior thesis or have a senior seminar, or, for art majors, prepare for their senior art exhibit) to prepare our portfolio and senior exhibit. Some of the art and art history courses also fulfill the University Core requirements. Each year, the art department hosts numerous art exhibits and artist talks, which provide valuable insight into the professional art world. The department also offers summer internship opportunities for students who are interested in working with local art centers and museums.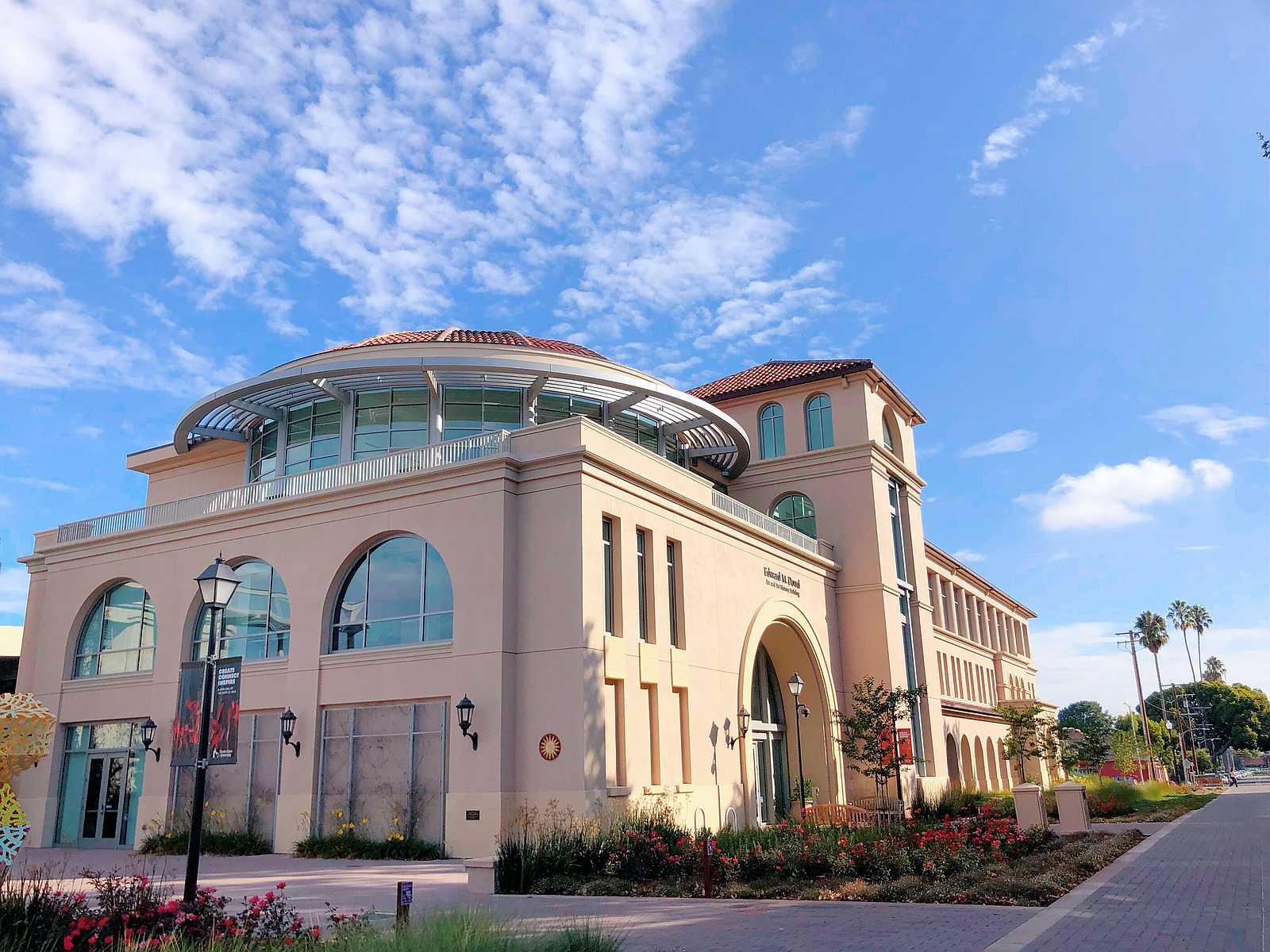 It has been an enriching experience for Vivian. Many other students seem to share a similar viewpoint. To sum it up, Santa Clara University is a top private university with a strong emphasis on community, student outcomes, and contribution to society and strong career connections to the Silicon Valley.